Cuba is a throwback to an earlier time, a case of arrested development. The US-Cuba standoff and embargo, in place since 1960, brought American investment and infrastructure support to a screeching halt.  The signs of this are everywhere on the island, from the shiny vintage American cars of the 1950s (somehow still plying Havana's streets as taxis) to the once elaborate architecture, displaying every degree of disintegration imaginable.
Perhaps only underwater is this arrested development an unequivocably good thing, as the coral reefs below Jardines de la Reina (Gardens of the Queen) are thriving and demonstrate what the rest of the Caribbean must have been like decades ago.   The Gardens are a series of protected mangroves 2-3 hours by boat south of Cuba and have been a marine reserve since 1996, perhaps the only uniformly positive decree issued by Fidel Castro during his long stranglehold over Cuba.  He reputedly enjoyed fishing and skin diving.
Ever since our first trip in 2015, we'd been wanting to return to Cuba, despite the unfortunate coda which prolonged and ended our prior stay there.  Hearing we were heading to Cuba again, many friends evinced surprise, with sharply drawn intakes of breath and hesitant looks: "Weren't you robbed there?"  Yes, we were and it was not pleasant, but one unfortunate incident hardly seems like reason to indite a whole country, particularly one with such well protected and pristine reefs.
In the fall of 2022, we traveled to Baja for a Sea of Cortez  dive trip on the Rocio del Mar, organized by dive travel specialist Lynn Morton.  Lynn mentioned she and husband Mike were diving in Cuba in January and there was still space on the boat.  This put Cuba back in the forefront of our minds and we seriously considered it, but we didn't have all of the necessary time off.  A timely notice from another friend and dive travel organizer as well as professional underwater photographer, Tanya Burnett, alerted us to 3 remaining spaces left on her charter in June of 2023.  Steve, Greg and I decided to nab them.  The tariff wasn't bad, $3500 per person for a week of diving on the Jardines Avalon III, part of a 6 boat fleet operating in Jardines de la Reina. New since our prior trip was the option to fly from Miami on American into Camaguey, Cuba's third largest city, near the south coast and much closer to the port at Jucaro, from which the boat would depart.  Roundtrip airfare on American (2 first class flights going, 3 in economy returning) averaged $1225 per person for us.
Thursday, June 22, 2023-Friday, June 23, 2023
In American's first class compartment on our red eye to Miami, the entire cabin was treated to the loud commentary of an enthusiastic but probably very hard of hearing 80 year old diver, rhapsodizing about his world travels and adventures as a SCUBA diver while chatting with his seat mate, a female attorney and diver.  We couldn't help but learn their destinations, as well as many other details, and were relieved to learn they were both en route to other Caribbean destinations. 
Three quarters of the way to Florida, on the right side of the plane, we were mesmerized by an amazing lightning show, which appeared to be trapped in a cloud bank and with each flash, illuminated a towering vertical cloud, which equally entranced the woman behind us :  " It looks like a monster!"
The Centurian lounge was a welcome respite from the bustle of the Miami airport, with a respectable mushroom frittata for breakfast.  Greg made it onto our Camaguey bound flight with minutes to spare. The airport at Camaguey was hot and the noise level was augmented by a boy with an ear-piercing shriek, issued whenever he was chased off the conveyor belt.    After a long wait and much chaos of bumper car carts overloaded with suitcases, we established that Greg's dive bag didn't make the trip with us.  A $20 US cab ride brought us into town, where we checked into an attractive AirBnB called Apodaca. There, Steve and I fell into an afternoon sleep of the dead nap.  It was cloudy and nominally cooler after an afternoon rain when we ventured out in the early evening to walk and explore the neighborhood.
  We enjoyed mojitos at the hotel, before and after an unmemorable dinner down the street.   
Saturday June 25, 2023
We had a 2 block (right, left, right) walk to Hotel Santa Maria to meet our transport.  We managed it in one trip, aided by Greg being down a suitcase. Although we were 45 minutes early, the van was already there, including several Avalon divemasters. 
One heavy-set divemaster looked very familiar-it was indeed Noel from our prior trip, whose resonant bellow "Nino" summoned a dutiful American crocodile from a lagoon's far recesses. 
Before we could head to the port at Jucaro, we had to make a return trip to the airport.  Greg's dive bag did come in on the once a day flight from Miami as hoped.  The 2+ hour drive to the port was through countryside, populated with horse and donkey-drawn carts.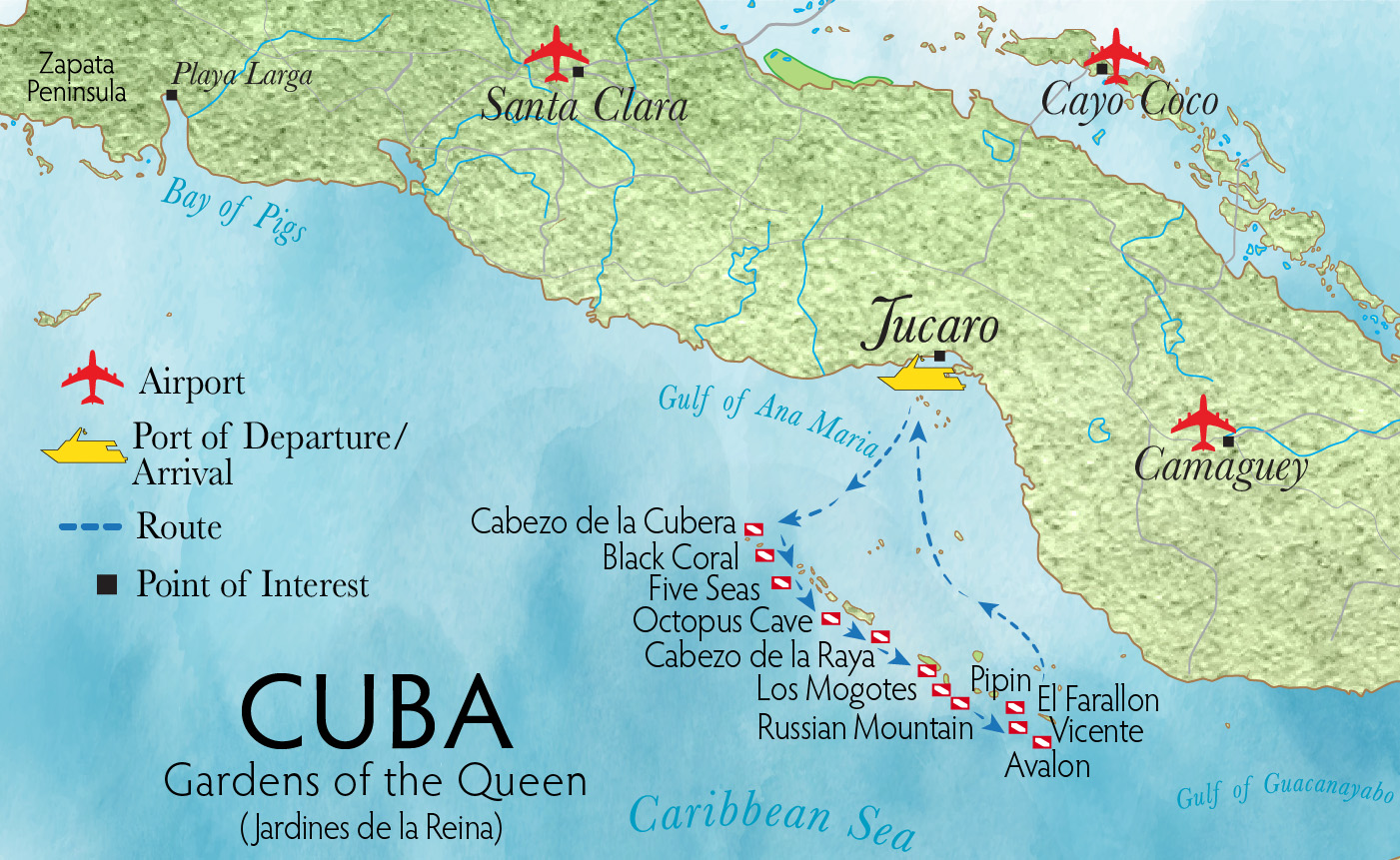 We arrived in time for a late lunch at 2 pm, several hours before the rest of the group, which was making the interminable 7 hour bus traverse of the island from Havana. This gave us time to leisurely build our underwater cameras.  Affable host Ary described the boat as a "5 star hotel on the sea" and it was large and comfortable overall, if not luxurious. The JA III is big, 160 foot long, with 15 cabins, housing up to 30 divers and 12-14 crew, including a doctor and 6 divemasters.  We had one no show (Terri had a passport issue) and a few singles, bringing our total number down to 27.  There were multiple family groups, including Marshall and Joan from the Bay area (it turns out we were on the same Galapagos trip in 2006, organized by our mutual friend Skip), their daughter Teresa, niece Tina, and Tina's friend and former USC roommate, Debbie.  Parent and child pairs included Samantha (Sam) and her 17 year old son Lucas, Josh  and his 18 year old daughter Eliza and Chrissy and her 27 year old daughter Audrey.  Southern California was well represented; as well as us, Erin and Steve hailed from just up the road in Carlsbad, Eric and Margi from Orange County and Fletcher and John from Los Angeles. Our group was rounded out by Kathryn from Florida, Bill (splitting time between Florida and Asheville, North Carolina) and of course, Greg.  We had enjoyed a wonderful long Indonesia dive trip including Kimberly and David just before the pandemic, and I had swum with humpbacks in Silver Bank near the Dominican Republic with Kimberly's aunt Kim on another Tanya organized trip in 2019. 
The day was rounded out by safety demonstrations, crew introductions and orientation remarks.
Sunday, June 26, 2023
Everyone opted for the standard 3 dives per day package, although 4 dives per day is an option. Nitrox is included.  The day was organized around breakfast from 6:30-7:30 am, with diving beginning shortly thereafter.  We returned to the JA III between most dives, with two in the morning and one at 3 pm.  Environmental specialist Victor Ferrer gave an occasional presentation on the mangroves and local ecology.  We learned about the four types of mangrove: red (nearest to the sea, can convert salt water to fresh), black (can tolerate high salinity), white and buttonwood.  Mangroves serve as shelter and nurseries to tiny fish in developmental stages of life. 
From Victor and Noel, we learned about changes in the organization over the years; namely, the Tortuga, the stationary barge on which we stayed in 2015, is no more. 
We were divided into 3 groups, each with 2 divemasters and its own tender.  These tenders were fabulous vessels from which to dive: easy to board, stable, fast and shaded.  Best of all, once the tanks were loaded onto the tenders and the gear attached, they were left there for the week, with the tanks refilled there.  Two sturdy ladders were easy to navigate, especially with the rig doffed in the water.  
Our group consisted of me, Steve and Greg, Kimberly and David, Kim, Kathryn, and Kevin (all the K names).  We were led by divemasters Maydel and Noel, until Noel developed an ear infection later in the week.  The water was delightfully (possibly frightfully) warm, 86 degrees by my computer, although Kevin said all computers overestimate temperatures.  After the first few dives, Steve in a 5 mm wetsuit left off wearing a neoprene hood, in favor of the souvenir Cuba marine life-imprinted buffs Tanya had gifted all of us.  This babushka look led to Greg dubbing him "old woman" in a voice evoking Monty Python.  Conversely, Greg was also too warm in a 5 mm suit for a true hood and began diving in a great white shark printed buff which made it look as if his head was in a shark's mouth.
Dive 1 (64 minutes, 51 feet) Anclitas: How many times must I learn this lesson the hard way?  Although my strobes seemed to be functioning normally early in the dive, I found it hard to adequately light reef scenes.  Later, I discovered the magnets, which on Inon strobes must be in to shoot in manual, were out.  
Dive 2 (68 minutes, 47 feet) Puntica: The water was milky.  A HUGE Goliath grouper known as Lola followed us around like a dog.  She was very democratic, dividing her attentions equally among the divers, going first up to one, then another, each in their turn.  Caribbean reef sharks hovered nearby, making regular passes.  
Dive 3  (66 minutes, 64 feet) Finca de Pepe:  Kim sat out the afternoon dive and David set out on a fly fishing expedition, so the roomy skiff was even more capacious. The visibility was better at this beautiful reef with short canyons, dotted with coral bommies.  The reef was adorned with giant barrel sponges and delicate-appearing, nearly translucent, vase-like sponge formations.   
Two birthdays, complete with a gluten free cake, were celebrated this evening at dinner, with Sam turning 50 and Kimberly 58. Lobster featured prominently this evening, as it would in multiple subsequent meals.  Other than catch and release fishing, lobster is the only commercial fishery in the park. 
Erin blew out an eardrum on the first dive and was grounded by the ship doctor for the trip.  By the end of the week's enforced leisure, she polished off a hefty history book, The Hemingses of Monticello: An American Family by Annette Gordon-Reed.   Marshall had been told diving was off limits for him for other medical reasons prior to the trip but elected to come with his family anyway.  
Monday, June 27, 2023
I guess Steve and I were still in make-up sleep mode, as we overslept, waking up just in time to suit up for the first dive. Greg discovered he had a pair of mismatched Scuba Pro fins, the down side of too much gear.  They were close enough in style to each other that he didn't spiral around anymore than the rest of us, being caught by surprise by sharks suddenly appearing from behind.  By the end of the trip, I was looking over my shoulder more and more, trying to better anticipate the sharks' sudden, seemingly stealthy approaches.  
Dive 1 Pipin (named for a Cuban diving champion) (64 minutes, 78 feet):  This was a great dive, but I was dead in the water photographically, seeing the dreaded "lens not seated properly" message, indicating I had forgotten to take the all important test shot after downloading the prior night.   Kimberly, the birthday girl, sat out the morning,  not feeling well, while David was off early fly fishing. 
 Lola the goliath grouper again swam from diver to diver and the Caribbean reefs sharks made regular passes, joined by a couple of silky sharks in the shallows.  Greg went back out on snorkel after exhausting his air, his surface splashing seeming to excite the sharks.  
Dive #2 Patrizia  (64 minutes, 78 feet):  My camera was back in business and employed in a session with a trumpetfish posing against a sea fan. 
During the briefing, Noel made a conspiratorial,  finger to his lips hush-hush sign, indicating he would bring a fish head down with him.  This is a major policy change from our prior trip, when the divemasters regularly brought down with them large boxes of fish guts to attract sharks, often to the point of frenzy.  The Caribbean reef sharks began digging determinedly in the reef after Noel buried a fish head.  I asked him later whether the box would be making an appearance later in the week and he indicated no, that the company discourages baiting.  Apparently, this is divemaster dependent, as I saw later in the week one of the other divemasters loading up a box.  
Dive #3 El Intermedio  ( 69 minutes, 61 feet):  This site is named for its position between 2 other reefs.  Tiny silversides swayed in unison in a dark alcove.  
After the dive, we snorkeled at the still pristine and increasingly rare elkhorn coral grove, over which we did a drift snorkel on our prior trip.  I found it hard to swim at the surface with SCUBA fins on.  A reef shark patrolled and abundant schools of brilliant yellow fish sheltered in the recesses formed by the  elkhorn coral.  
Dive #4 Boca Anclitas (53 minutes, 53 feet):  This was our one night dive of the week and it turned out to be a doozy, at least for our group.  A massive glowing pink sunset cloud saw us off as we headed out after dinner, an auspicious beginning.  At first, the dive seemed destined to be extremely tame.  I wasn't really finding any subjects, so concentrated on patterns with my CMC.  With your head in the reef, especially at night, it really is startling to be surprised by anything large in the water.  A rambunctious goliath grouper kept close tabs on us, even bumping heavily into us at intervals.  I assumed it was Lola, not noticing this behemoth was blind in one eye (I later learned from Maydel this was Lily).  It turned out the cunning creature was shadow hunting , making use of our dive lights to identify suitable meals, which she polished off in a single snap of her ample mouth.  That is, until Greg found an octopus on the sand.  
Lily lunged for it, almost swallowing it, but ending up with the octopus on its face.   By the time  I had my head out of the reef and caught up to the group, the octopus had migrated down on Lily's flank and the goliath was wheeling around like a bucking bronco, as if to scrap it off.  Maydel eventually succeeded in scraping it off, whereupon, the octopus inked and disappeared under a rock.
Back on the boat, Maydel exclaimed: "That was the best night dive ever!"  Steve hadn't brought his macro gear and was the only one of us armed with wide angle to adequately document this underwater encounter, inspiring him to write up this episode.
Tuesday, June 28, 2023
Dive 1 Pius Reef (65 minutes, 77 feet):  Noel secreted a fish within a barrel sponge atop a large bommie, bringing Caribbean reef sharks circling.  Periodically, he would pulp the remaining fish to re-ignite the shark's interest.  
Dive 2 El Farallon (67 minutes, 96 feet):  A notable feature of this dive are tall deep canyons, one filled with silversides.   A few silky sharks joined us in the shallows.  
Back on the boat for lunch, we were greeted with Ary's cries of "Hot towel!", said in tones of a street vendor hawking "Fresh papaya!" 
Heading back out for the afternoon (minus David, off fly fishing), Noel's resonant calls of "Ven, mi nino!", supplemented with Greg's offers of "Pollo fresco!" failed to make Nino the American crocodile appear.  This is exactly what happened on our prior trip:  Nino no show one morning, prompt appearance the next.  I hoped this would be the case this year.  The other groups reportedly did see a baby croc on their excursion.  Steve later theorized that Nino was too far away to report in time for our first visit, but was hovering nearly the next day, knowing we would return.  
Non-divers, especially those aware of reports of older ladies walking their dogs being killed in Florida by alligators, may be wondering about our sanity at this point.  Not to point out the obvious, but crocodiles are not the same as alligators. They are related, both large reptiles in the Crocodile Order. Generally, crocodiles are larger and more aggressive than alligators.  That doesn't sound good if plans include a swim with these creatures!  Crocodiles live in salt water, while alligators are fresh water inhabitants. Although Americans probably think alligators are more dangerous, nearly 1000 people a year are killed by crocs in Africa.   Our experienced operators know these particular croc individuals and on our prior trip, had definite guidelines for which crocs were mellow enough with which to share the water (Frankie, no; Tito, yes, Nino, yes).  Swimming with crocodiles has been the next big thing in underwater photography circles for a decade+; indeed, the possibility of it was a motivator for us to go to Cuba for our first trip in 2015.
Dive 3 Luisa Reef (68 minutes, 59 feet):   I ran out of battery for silky sharks in the dappled light at the end of dive.  Seeing my rig (Panasonic GH-5), Noel had asked me if he could buy a battery from me.  He had only one battery for his Panasonic GH-4, which he uses for video and obtaining another wasn't as simple for him as for me.  I had 4, so I gifted him one.  The simplest transactions are remarkably hard for Cubans, being hobbled by the ongoing embargo.  
Dinner that night was Italian night, featuring homemade pasta with lobster sauce and gnocchi.  
Wednesday,
June 29, 2023
Dive 1 Black Coral II (64 minutes, 81 feet):  Sharks! Maydel speared a lionfish, which was instantly dispatched by swarming sharks.  
Down in cabin between dives, Steve suddenly appeared, saying Nino had been spotted and we were heading out early. David, clad head to toe in great white hunter garb, headed off to fly fish. This time, with minimal prompting, Nino sashayed towards the boat. Our driver Felio dangled a chicken chunk from a fishing line while Nino aligned with boat, occasionally lunging toward the tantalizing tidbit.
Meanwhile, we took turns slipping into the water from the other side of the boat, where the ladder was lowered. The current in the channel made the minuscule distances we had to swim surprisingly difficult. Steve went first and we could hear the effort of his exertion through his snorkel.  Kevin went next and worked it, trying to get shots of Nino without the boat in the background. 
Kimberly and Kim elected to watch the proceedings from the boat and did a good job of supplementing our photographic record. 
Dive #2 Boca de Piedra (58 minutes, 71 feet) Silvery strange, nearly motionless tarpon awaited us in a dark recess at depth.  Many Caribbean reef sharks circled and we were regularly visited by an unafraid grouper.  Maydel speared another lionfish; he tried to feed it to a grouper but a shark made off with it in one violent jerk. 
Dive #3 La Trampa (73 minutes, 43 feet)  This dive site's name means trap and refers to a large round recess with conch shells, as well as many tiny lettuce leaf nudibranchs.  I didn't see this site namesake feature until the end of the dive, as there were incredible numbers of porkfish (yellow with distinctive double black stripe on face) and striped yellow fish to distract me, not to mention silversides in shadowy recesses of the reef and periodic buzzes by Caribbean reef sharks.
At our request, dinner was pushed back to 7 pm as a response to the sweltering heat of the dining room the night before.  If I could change one thing about the boat it would be to serve more meals outside.  
Most people were in bed already when the evening's incredible lightning show finally gave rise to rain and wind.  
Thursday, June 30, 2023
Dive 1 ( 71 minutes, 72 feet) Five Sea:  This site is named for a fishing boat wrecked here, the scattered remains of which remain on the sand.  Strange and nearly stationary silvery tarpon are denizens of the dark undercuts in the reef, maintaining a steady vigil.
The sunball was more visible this morning. An attentive Nassau grouper followed Kim at the dive's end in the shallows.  
For our surface interval, we landed on a small white sand beach, where the greeting party of hermit crabs, iguanas and jutias turned out.
The jutias were not as numerous as on our prior trip, but readily munched down on guava pieces.
Dive 2 (73 minutes, 56 feet) Cueva del Pulpo:  Although I saw no octopus, in a cave or elsewhere, on this dive, it was notable for a couple of huge pillar corals, as well as abundant porkfish and a Nassau grouper being assiduously cleaned.  
Dive 3 (67 minutes, 69 feet) Los Mogotes
At our request, we paid a return visit to Nino.  It didn't take long-Steve was first to spot the wiggle waggle surface motion of the approaching croc.   I was first in the water this time, followed by Steve, David for his first time with his Go Pro, Kevin and Greg.  For once, I was happy to have a substantial camera rig as a barrier between me and Nino. 
I thought David brave to go in with a GoPro, which looks puny by comparison.  The current was less strong this afternoon, making pulling even with Nino easier. 
At one point, it pushed me gently close enough that the dome briefly contacted Nino, definitely not my intention.  I was startled enough that my finger probably closed on the shutter reflexively. 
The skies opened up after dinner, clearing everyone from the bar on the top deck.  Eliza was tasked with selecting an evening's entertainment, which is how Greg, Erin, Lucas, Teresa, Kathyrn, Kimberly and I found ourselves playing Cards Against Humanity. Greg and I played this very rude and so wrong but extremely funny game on the Wellenreng with Kerri and the boat's owner, Roland, whose play was impaired by being memorably drunk.  I had an early winning streak but was soon overtaken by Teresa and ultimately, Erin for the win.  
Friday, June 31, 2023
We were limited to 2 morning dives today, since we had to head back to Jucaro to disembark in the morning. My dive computer shut down when my battery ran too low, although it still gave me my tank pressure.  
Dive 1 La Raya
Dive 2 Cabeza de la Cubrera:  Cubrera means snapper.  A large Nassau grouper circled our group, with spines protruding from its mouth.  I thought the spines were from a sea urchin and reached out to extract one, causing the grouper to turn and edge away.  It turned out the spines were parts of a lobster the grouper was ingesting, so no wonder it wanted no help with them!  
By the end of the trip, our skiff had finally achieved a near perfect departure, with no one forgetting a critical piece of gear requiring a swing back to the mother ship.  Earlier in the week, Steve discovered at a dive site he wasn't wearing his booties, only socks. Kim's bright yellow fins were under her seat unused, so they were pressed into service for that afternoon dive, saving us a trip back.  Another time, Greg gave new meaning to the phrase "swimming with crocs" when he discovered at another dive site that he was wearing his extra special-all-the-way-from-Ushuaia-at-the tip-of-South-America flame-decorated Crocs instead of his booties (I was there when he bought these but sadly, could not discourage this addition to his wardrobe).  He attempted to stuff his croc-clad feet into his fins but was dissuaded from diving that way, Kevin sensibly pointing out that the crocs would shrink-wrap his feet underwater.
As soon as we docked in Jucaro, a fierce cooling rain finally materialized. Interestingly, even if the weather had been more conducive to it, we were not allowed off the boat to shop or sightsee.   
On the menu for our farewell final dinner: lobster, shepherd's pie, spinach salad with raisins, chickpeas, black beans, rice, carrots and flan.  
Saturday, July 1, 2023
On this day 34 years ago, Steve and I were married at the Faculty Club on the Washington University campus.  This wasn't the most romantic of anniversaries, rising at 4 am, disembarking the boat at 5 am, a 2.5 hour bus ride with most of the group and some of our divemasters going on leave in Camaguey, and 3 flights to Miami, Dallas and finally San Diego, but the great memories and images from the week were satisfying solace.  Unfortunately, only underwater does it appear that life in Cuba is truly thriving.
On our 2015 trip, there was a sense of coming new possibilities for Cuba, with the American embassy reopening during the Obama administration (Kerry came for the ceremony while we were diving in Jardines de la Reina).  Stump largely shut down and stifled that progress by reversing course.  My assessment then was that there was no evidence that Cuba would soon be "ruined" by mass tourism-it takes a long time to reverse the effects of decades of neglect.  The intervening years appear not to have improved the situation appreciably.  Indeed, the dramatic increase in numbers of Cubans (estimates of 3% of the population) leaving the country during the years of the pandemic seem a telling barometer of just how desperate life continues to be for most Cubans.
-Marie
P.S.: My prior trip launched me into a long Cuban-themed reading and film-watching trajectory, as detailed here.  This trip led me to pick up a novel I procured then but never managed to read, Pico Iyer's Cuba and the Night, which definitely captures some of the atmospheric flavors of Havana.